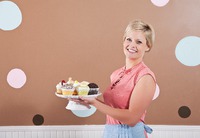 ABOUT BRAYLON
Braylon Simpson is a successful party planning experts and professionals with many years of personal and professional party and event planning experience planning both minor and major events. Her career began in the early 2000s when she realized that much of what goes wrong during planning a party can be avoided. This led her down the path that became a dream career.

Braylon loves to entertain, and it was because of this desire that she now wants to share the lessons she has learned, both easy and challenging, that will help make you into an experienced hostess. Your goal is to instill the # 1 goal of entertainment-the host should enjoy planning the party and the same party as much as their customers.
Why have a party?
Who plans to attend and what are their demographics?
How much can you spend?
Where will the celebration be held?
Braylon has recently completed a new book about party planning. That will soon be available later this year. Pre orders can be made directly or you can signup for the newsletter to be informed when it is released.
Check back soon to get your own copy.